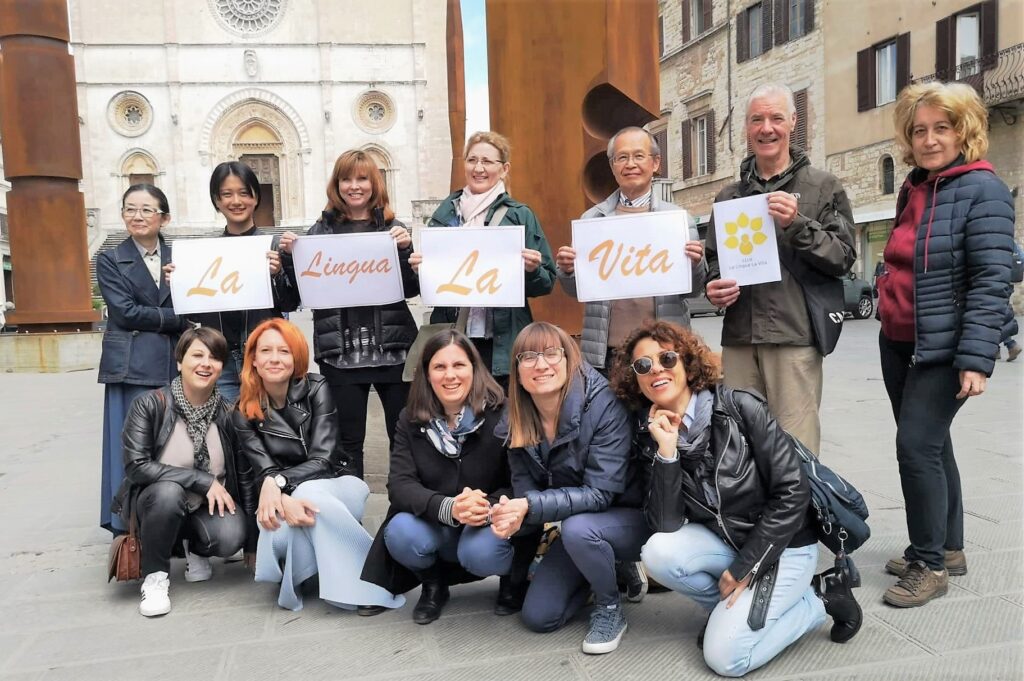 The school was founded by me in 1988 and was born out of an idea and a great love of cultural exchanges based both on an international view of the world and of life.  During the confusing period following graduation, the only thing I knew for certain was that I wanted to create an international cultural training center.
I believed so strongly in this VISION (having started a language school, I attribute great importance to words and their meaning.  This concept, in particular, has been key to my growth and development as well as that of the rest of the school.) that I was determined to have faith in the idea and not to be distracted by the situation I was living in at the time, which was very far from my objective.  I decided to use my parents' basement (just like Bill Gates!) and to invest the little money I had at the time on very limited advertisement in Italy and abroad.
The first responses to my offer were pretty negative because very few people knew Todi; it hadn't been proclaimed the most liveable city in the world yet, and the people I turned to for advice were very sceptic.  Fortunately for me though, and for everyone who started to work for the school, and those who continue to do so to this day, I place a lot of importance to visions and to projects and believe in the power of the individual to change his or her own reality by applying the principle that nothing is impossible.
So, despite being alone in this endeavour, I wanted to keep believing in the word "VISION" as well as the word "GROWTH" and I continued to propose my idea to a larger number of organizations, associations, universities, cultural centers, agents and teachers.  Eventually I started to receive positive responses from national and international organizations, and reservations have increased considerably year after year.
We started working with Cultural Institutes, international universities, Japanese, American and European agents and representatives from the Italians Abroad Associations—every one of them wanting to show their audience a reality that was smaller and more united than big cities (which were by now saturated) where students could be constantly stimulated to speak Italian, go to classes with small groups and blend easily into the local life, thus feeling right at home.
Students choose our institute, from among the hundreds proposed throughout Italy, for the quality of its teaching, the hospitality and warm welcome given to them by our staff and by the entire city.  They also choose it because of the presence of fewer tourists compared to other art cities, the variety of cultural activities offered such as cooking, ceramics and painting, and the attractive beauty of the regional territory.
We went through significant changes during this strong period of growth.  For example, we moved our location to be right in front of the Comunal Theater where we have been for many years.  We also expanded our organizational structure which is composed of a friendly and qualified team, intensified our focus on quality control, enhanced our courses with innovative teaching materials, created a unique internal evaluation and certification system (TULPA) and enriched the number of families and apartment owners who happily house our students.
Our Italian courses are carried out according to the Full Immersion formula at holiday farmhomes and country residences between Todi and Perugia. In 2005, we embarked on an ambitious ministerial project partnership aimed at 45 entrepreneurs in the Polish regions of Warmia and Mazuri. Other significant authorities who have participated in our courses reinforce our institute's leading position at a national level.  We were also called upon to train numerous members of the Dutch Diplomatic Corps and to launch a pilot program for the multinational, Ernst & Young.
In 2006, the Beyond Language program was created and launched, and is still going strong to this day.  It is based on innovative neurolinguistic programming techniques (PNL©) in step with the most modern discoveries in neuroscience.  The program also uses breathing exercises and yoga positions which have been proven to lead to a 25-30% higher increase in learning compared to more conventional methods.
In 2007, the Long Beach, CA, branch was opened where Italian is taught to students living in Southern Los Angeles and who are passionate about Italian language.
The experience gained with more than 30 years of business now allows us to organize training courses for teachers of Italian as a Second Language, particularly those who want to make Italian teaching their chosen profession and who want to gain advanced teaching techniques based on neuroscience principles.
Some might think this is the end of the story but for us, it's only the beginning.  We always feel like we're at the beginning, full of enthusiasm, and this makes up another strength in our philosophy.
Stefania Belli